Use our integration with Iterable to deliver engaging email experiences to your customers.
Build and Approve in Dyspatch
In Dyspatch, use the drag and drop visual editor to create a beautiful, responsive, and engaging email template. Collaborate with your team to approve the template and publish it.
Once your template is published, you can move it into your Iterable account by exporting it with our Iterable Integration, or you can download your template to upload it to Iterable manually.
Iterable Integration
Connect your Iterable account to Dyspatch and begin exporting templates in a couple of clicks.
Connect your Iterable Account
You will need to create an Iterable API key with type Standards enabled. Once you have your Iterable API key, you are ready to set up your Iterable integration in Dyspatch.
In the Administration portal, open your username drop-down menu, and select Integrations.

You may need to unlock integrations for your team's account. Reach out to our
support team
to get integrations set up.
Enter your Iterable API key, select an export method for localized templates, and add a short description that your team will see when exporting.
Localized Template Export Methods
Use Dyspatch to localize your template and you can create emails that support multiple languages or locations. With your new Iterable integration, you can choose to export localized templates with the Iterable property Locale.
For the integration to work successfully, you'll have to add Locales to your Iterable project. As long as the Locale exists in Iterable, our integration will be able to map the translations together. For example, creating an fr-CA locale in Iterable will allow you to map the French - Canada locale from Dyspatch. If the locale does not exist in Iterable, you'll see the following error: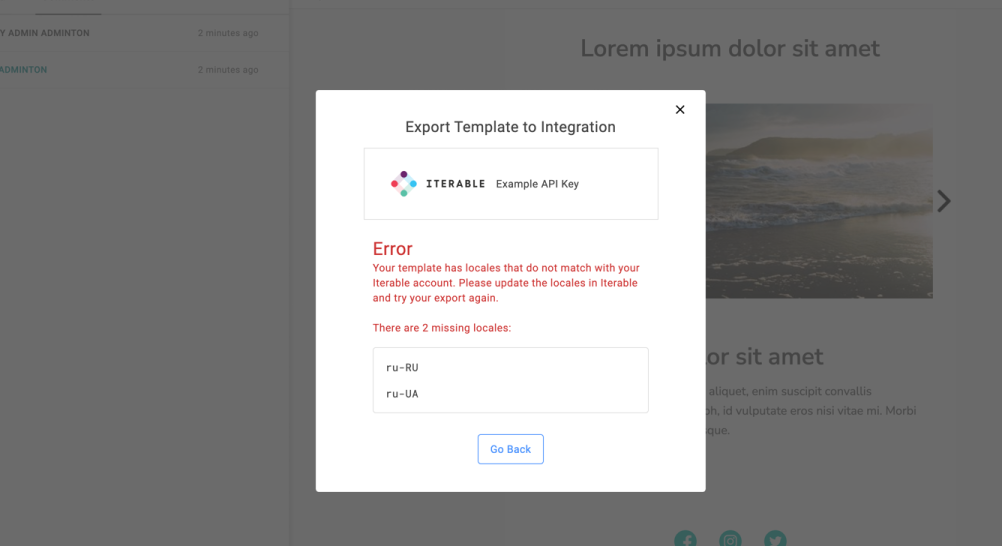 Exporting a Published Template with the Iterable Integration
With the Iterable integration added to Dyspatch after you click Download/Export, you can now select Export to Integration and send your Dyspatch template to your Iterable account.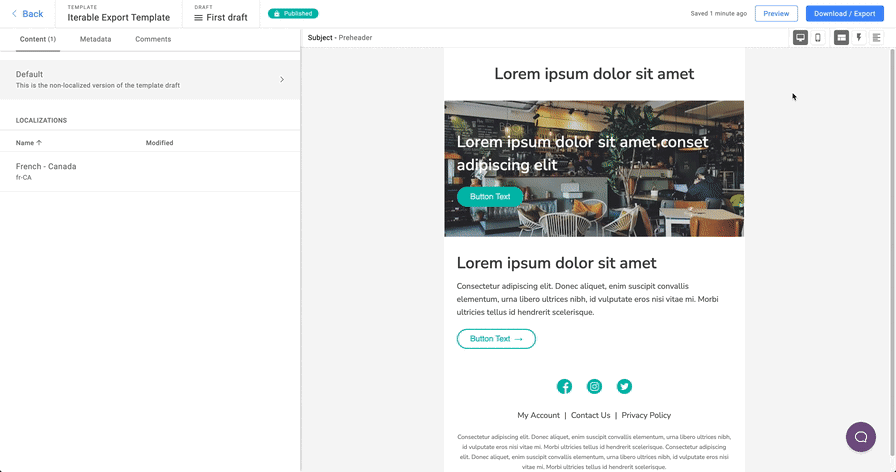 Exporting any newly-published draft will update the template in Iterable. Any changes to the name, once published, will also update the template in Iterable.
Find your template in the Content > Templates section of your Iterable Projects dashboard.
Downloading Your Email Template
Once your email has been reviewed and approved by your team, you can now export your template using the Download/Export button.
You will need to select the HTML/Handlebars option in order to be compatible with Iterable's templating system.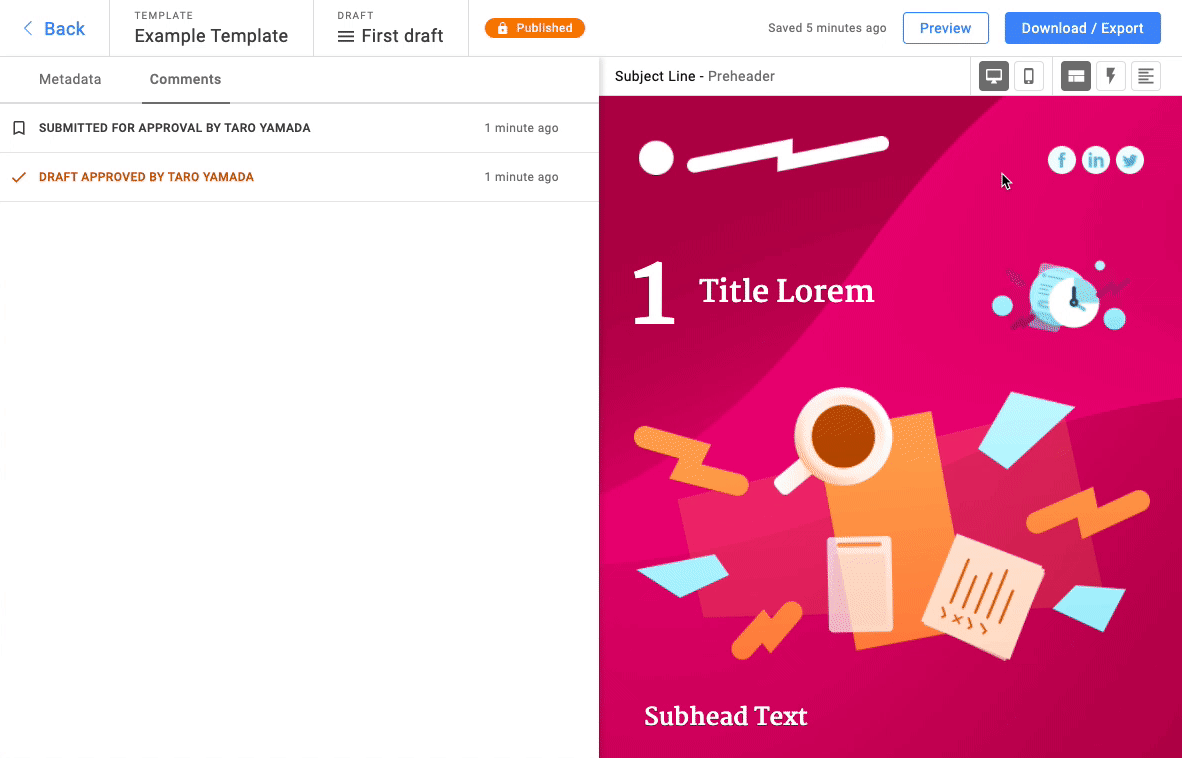 A zipped file will be downloaded onto your system with the HTML, plain text content, metadata, and localizations (if applicable).
Adding the Template to Iterable
Navigate to Content > Templates. In the top-righthand corner, select Import email template. From here, you can upload the HTML file you downloaded from Dyspatch.
Populate the fields for sending information, including Subject Line, Plaintext, and Preheader text, and save your template. The transfer is complete, and now you can send your email template.
For information on how to send emails via Iterable, review Sending Your First Campaign from Iterable's documentation.