Connect your XTM account to Dyspatch to sync your localization workflow.
Connect your XTM Account to Dyspatch
In your Dyspatch account, navigate to the Apps & Integrations page, click on Add Integration, and select Workflows
Choose XTM from the Integration dropdown window and add in your XTM Server URL. Add a short description for your integration (this will be a friendly name used in the email builder), and click Next Step.
On the second step, add in your XTM Client Name, XTM User ID, and the associated password for that User ID. Click Add Integration to complete the process.
To find your User ID, click on the "Users" tab at the top of the page and hover over the i icon for a user.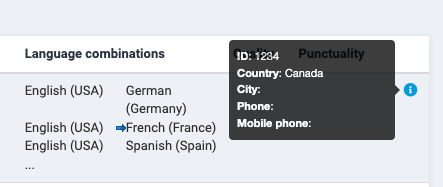 Once your new integration has been set up, you will be able to connect to your XTM workflow directly from Dyspatch.